Lip Filler is a celebrity favourite procedure that enhances your appearance instantly. It has become increasingly popular recently with celebreties like Kylie and Kendall Jenner opting for this procedure to get the desirable look of plump and full lips.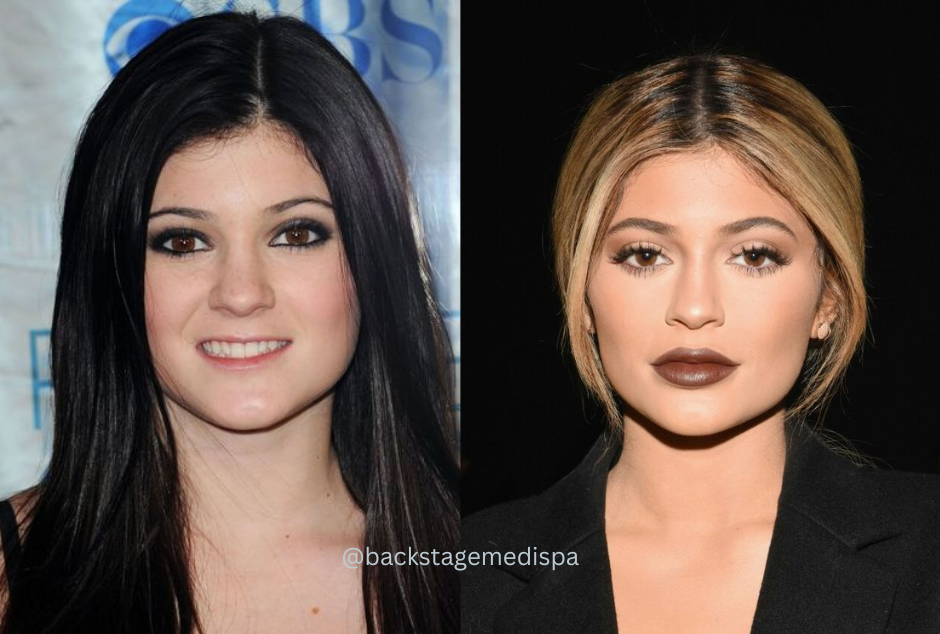 Lip Fillers are a simple lunch-time procedure that help enhance your smile by adding volume to your lips, providing hydration, defining borders and the cupid's bow. It can also help reduce the lines around your mouth to offer you an overall rejuvenation. We use local anesthesia or numbing cream during the procedure and clients report little to no pain. There is no downtime with fillers.
Fillers are made of Hyaluronic acid which is a naturally occurring substance in your body. It attracts more water to the treatment area which helps achieve a fuller appearance. You can also get fillers for a anti aging, brow lift, cheek lift, jawline definition, reduce hand wrinkles, reduce marionettes lines, reduce acne scars etc. Book a consultation to learn more about the procedure.
WHO IS THE IDEAL CANDIDATE FOR LIP AUGMENTATION WITH FILLERS
People with thin lips who want a fuller look
Those who want more definition for their cupid's bow
People who are of an advanced age and want a more youthful appearance
People with lines and sagging skin around their mouth
However, if you have bleeding disorders, cancer, diabetes, etc., or certain allergies, you should avoid fillers treatment. Make sure that you share your whole and accurate health history with your doctor before you opt for the procedure.
WHAT TO EXPECT FROM LIP AUGMENTATION OR LIP FILLERS
When you visit us, we will first take your health history to ensure that fillers are suitable for your needs. We will work with you to understand your desired results and advise you the the right shape for your lips. Lip fillers can be used to create a variety of results, however, we start with the minimum amount required to achieve an enhanced but still natural look.
First, we will apply a numbing cream to your lips. This will take about 30-40 minutes to become effective. You can also opt for an injectable local anesthetic as well.
As the numbing cream works, our doctor will mark the injection points on your lips.
The filler will be injected into these marked areas with tiny needles.
The doctor will massage the treatment area in order to evenly distribute the filler
After the procedure, you might experience mild swelling, tenderness or redness for a few days. This will settle down by itself and is a normal condition so you should not worry. You can see immidiate results, however, the final results becomes visible only after 2 weeks once the filler absorbs more water. You can schedule a follow-up visit after two weeks to ensure that the procedure is successful.
The results last from 9-18 months depending on your metabolism. You might need touch-up sittings to achieve your desired volume.
BENEFITS OF NON SURGICAL LIP AUGMENTATION WITH FILLERS
Lip fillers help you achieve a natural and fuller look without any surgery
It helps reverse the aging process by adding volume to your lips
It helps reduce any fine lines and wrinkles around your lips and can give you a complete makeover
You can control the new shape and size of your lip
It is a quick procedure with no downtime
You can see immidiate results
There is very little chance of bad reactions as fillers are made up of hyaluronic acid which is naturally occurring in our body
If you don't like the shape, the procedure can be easily reversed by dissolving the filler with hyaluronidase
POST TREATMENT CARE:
DO
Stay Hydrated
Eat a healthy diet
Protect lips from the sun
DONT
Exercise for 4-5 days after the procedure
Touch or rub the treatment area
Backstage Medispa provides best skin treatments and non surgical enhancements in Model Town, Delhi.
Contact us on +91-9811221366 via Whatsapp